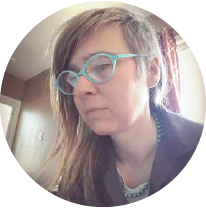 Kathi is an editor and writer, covering health, parenting, and inequality—often the intersection of these things. She writes essays, reported features, and creative nonfiction.
She is an updates editor for Dotdash Meredith and a contributing writer for Verywell Health and Parents.com.
Her work has been featured in the New York Times, the Washington Post, Rolling Stone, CNN, Business Insider, Vice, ESPN, the Independent, HuffPost, Talk Poverty, and dozens of other places. ​​In 2018, her reporting for Pacific Standard Magazine on driver's education was featured on American Public Media's Marketplace.
Kathi has been regularly invited to talk about freelance journalism for Southwest Michigan Second Wave Community Correspondent Academy. And she has facilitated discussions with journalism delegates from Colleagues International on building digital literacy and media responsibility in democracies.
"I strive to do more than tell a story. I believe that good writing done well fosters empathy, expands our understanding of the world, and acts as a catalyst for change."
Commission Kathi at kathivaleii at gmail dot com